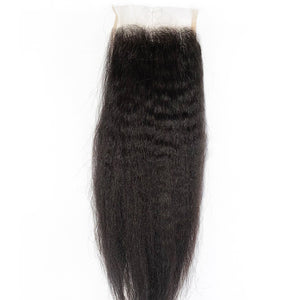 Description
Delivery
Length Chart
Exchanges/Returns
New and Highly Requested Blow Out Collection by your trusted hair brand. This texture offers body and softness that you have yet to find in any Blow-out texture because it is made using our authentic Raw LAO Hair.  Hair can be worn bone straight, wavy, and curly. 
Why you would love YUMMY Lace Products
Large 5 by 5 HD Swiss Lace
Hair Origin: LAOS
100% raw and unprocessed hair with cuticles running in the same direction 
Hair cut directly from a single donor 
Completely Pure

NO synthetic fibers

Will revert to a natural state after wash

Available in Transparent or Medium Brown Swiss Lace
Hair can be colored and heat styled

Available in natural black and brown tones

Simply a Masterpiece!
Fast Shipping
The first few rows are single-knotted starting from the hairline and gradually become double-knotted for added durability.
Hair Expert Notes
Due to the delicate nature of lace products, they last 1-2 installations with proper care.  Wave pattern and hair color tone may vary from bundle to bundle. We suggest purchasing your complete set in one transaction to ensure consistency and adding order notes at checkout. Order notes are not guaranteed, however, our fulfillment processors will do their very best to accommodate your requests(s). Find maintenance and product recommendations for this item here   The price advertised is for one item only.  This is not a wig or a unit.